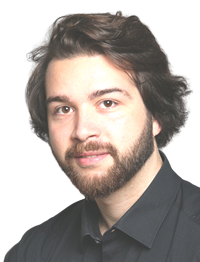 Share knowledge, network use and promote careers.
The Emerging Leaders are a working group of motivated young professionals who want to further develop their understanding of the pharmaceutical industry and seek contact with other Emerging Leaders through versatile networking opportunities. Through global cooperation, exclusive conferences and workshops for young professionals, networking events and regular meetings, the Emerging Leaders Community in the D/A/CH region has developed into a well-established working group with more than 150 members.
"ISPE YP Innovation Beyond – as a student and newcomer, it allows you to network, share expertise, and gain deep insight into the pharmaceutical industry."

Robin Schiemer

Bioengineering student,
Institute of Technology (KIT), Karlsruhe
After the training follows the entry into the profession, the professional career.
ISPE defines entry-level professionals in their first 10 professional years after completing their education as Emerging Leaders.
Do you want to join us?
Become a member of our steadily growing EL group ISPE D/A/CH, as EL and newcomer in the first 5 professional years after graduation with a reduced preferential membership fee. Contact us now:
Contact:
EL@ispe-dach.org

---

Hear it directly from our Emerging Leaders
Engineering Trainiee
International Future Leadershop Program,
Bayer AG
"As an ISPE Emerging Leader, I have the opportunity to attend conferences and trainings to learn about pharmaceutical processes and guidance documents but most importantly this is also a good way to get to know people with years of experience in diverse fields. The ISPE website is also a really great source of information to stay aware of the main news in the fast-evolving world of pharma!"
Quality Assurance Expert,
Sanofi-Aventis Germany GmbH
"I have come to know ISPE not only as a network for exchanging the latest techniques and trends in the pharmaceutical industry, but also for networking with like-minded colleagues in the field. Especially the EL group strives to connect young people to share knowledge, experiences and ideas to shape their individual futures. I am excited to be part of this network."
Technician in protein purification /
Downstream Process Development,
Roche Diagnostics GmbH
"I got to know ISPE as part of a university group during my master's degree in chemical engineering/process technology. Towards the end of my studies, I became more and more interested in the pharmaceutical and biotech industry. Furthermore, I wanted to do more besides my studies, so the opportunity to join the university group of ISPE at KIT came in handy.

ISPE allowed me to meet many new people in the pharmaceutical and biotech industries while accumulating more industry-related knowledge. At the same time, I was able to play an active role in offering an attractive and exciting program to the members of the University Group and Emerging Leaders and Students.

ISPE not only helped me get started in my career through the many industry-related experiences, but I was also able to meet many new exciting people in the pharmaceutical and biotech environment."
---

Facebook, LinkedIn
and Instagram
---

Information from the Emerging Leaders